Robert Winn is acknowledged as one of Europe's most experienced orchestral players and a sought after teacher. A graduate and Fellow of the Royal Academy of Music in London he was principal flute of the Royal Philharmonic Orchestra from 1985 to 1997. He was professor of flute at the Franz-Liszt-Academy in Weimar, Germany. and since 1999 he has been professor of flute at the Köln Hochschule fuer Musik, Germany.
In the last decade more than 45 of his students have gained places in major orchestras all over the world. He has published several technical study books for the flute including 'High Performance Flute' and 'Melodies for Developing Tone and Interpretation'.

As a member of the English Chamber Orchestra for thirty years Kate travelled the world extensively, including tours to Japan, Korea, Taiwan, Europe, North America, Brazil and Argentina, working with wonderful artists and music makers. Her freelance musical activities were widespread encompassing orchestral playing, concerto performances, chamber music and recording. Her successful recording of the Mozart flute Concerto in G led to her recording the Concerto for flute and harp with harpist Lucy Wakeford. Kate has recorded the wind chamber music of William Alwyn on the Chandos label with the Haffner Wind Ensemble. She was a member of the Haffner Wind Quintet for over twenty years, and as a member of this wind ensemble she was a founder member of the Britten Sinfonia. Kate has now completed twenty-five years as a professor of flute at the Royal Academy of Music, a position which she has enjoyed very much. In 1998 she was awarded the Honorary ARAM.
Kate is a regular teacher with the Oxford Flute Summer School. For many years she was the flute coach for the Spanish National Youth Orchestra (JONDE). She taught at Chetham's School of Music for nine years and for ten years the Royal Northern College of Music. She has many successful students who are now working in the music profession all over the world. Kate studied with Janet Way and Trevor Wye and performed at many master classes given by Marcel Moyse, William Bennett and Geoffrey Gilbert.

Robert studied with Kate Hill and later at the Royal Academy of Music with Michael Cox and Sebastian Bell. Since leaving the Royal Academy he has been busy as a free-lance orchestral player, chamber-musician and teacher. His orchestral playing (as principal, sub-principal and piccolo) has included work with the English Chamber Orchestra, Academy of St Martin in the Field, BBC Symphony Orchestra , London Sinfonietta, English and Welsh National Operas, Britten Sinfonia, Bournemouth Symphony Orchestra, Irish Chamber Orchestra, City of Birmingham Symphony Orchestra and London Mozart players.
Robert is a member of the New London Chamber Ensemble wind quintet, and he has played with Ensemble 360, the Albion Ensemble, Chroma,the Galliard Ensemble, Jane Manning's 'Minstrels', and the Ellipsis trio. Robert has given classes at the Royal College and Royal Academy of Music, at the Royal Welsh College of Music and Drama, the Guildhall School of Music and Drama (where he also taught at the Junior Department), and at Dartington International Summer course. He is a visiting teacher at St Edward's School in Oxford and at the School of St Helen and St. Katharine in Abingdon. Playing has taken Robert to a wide variety of countries including USA, Russia, China, India, Japan and Malaysia, and to all the major concert venues in the UK. Robert studied Applied Biology at Imperial College and has a PhD in plant biochemistry from Cambridge University. He plays on a silver Louis Lot flute made in 1876.

Katie has been involved with OFSS since it began in 1988, first as a helper to the founders Janet and Clive, and now as director. Her first and foremost teacher was Janet Way, and she has benefitted from over 30 years exposure to the teaching and performing of visiting tutors and musicians at the summer school. Katie initially studied Japanese at Fitzwilliam College Cambridge, then trained as a music therapist at the Guildhall School of Music and Drama. She enjoys a varied career of performing, teaching, and music therapy and is currently working for the Malta Trust Foundation to help establish a new centre for music therapy on the island.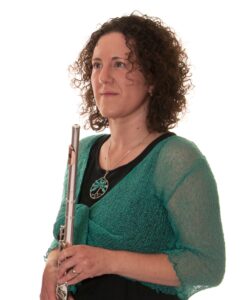 Carrie Hensel
Carrie Hensel trained as a flautist at the Royal Birmingham Conservatoire, subsequently working as a freelance musician, teacher and conductor of several youth orchestras and wind bands. Having now established a busy private teaching practice in Hampshire, she also enjoys tutoring and conducting on holiday courses, including the Oxford Flute Summer School and Flutewise. Many of her students have gone on to achieve scholarships, play at county and national level and have successful musical careers. She is the founder and director of Hampshire Flute Days, and conductor and coach of several of Hampshire's wind ensembles, both for youths and adults. As conductor of the Hampshire Flute Choir, she has taken the group on tour to places such as Estonia and Germany. She has led them with regular performances at the National Festival of Music for Youth and British Flute Society conferences. As a founder member of Flute Roots, and an enthusiastic supporter of musical education, she gives recitals and workshops to help inspire and motivate young musicians. She is also a Music Adjudicator for The British and International Federation of Festivals.

Janet Way
Janet Way founded the Oxford Flute Summer School with her colleague Clive Conway in 1988. She has had a long career both as a player and teacher. Her own teachers were William Bennett, Geoffrey Gilbert and Marcel Moyse and during her studies at the Guildhall School of Music and Drama she won a number of scholarships and prizes, including the prestigious Lord Mayor's Prize. She lectured on the art of teaching at the Royal Academy of Music and is a former diploma examiner and mentor for the Associated Board of the Royal Schools of Music and manager for Oxfordshire Music Service.
In 2014 Janet was commissioned by Boosey and Hawkes to produce a series of books for young instrumentalists called "Grade by Grade". All 25 books for woodwinds are now published. In 2014 Janet was elected Honorary Associate of the Royal Academy of Music.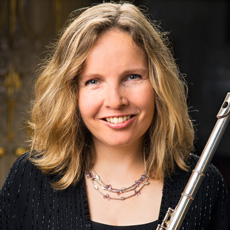 Lorna McGhee
Scottish-born Lorna McGhee was appointed principal flute of the Pittsburgh Symphony Orchestra in 2012. Known for her "exceptionally rich and vibrant tone" (Washington Post) Lorna has performed as guest principal with Chicago Symphony, Minnesota Orchestra, London Symphony, London Philharmonic, Academy of St-Martin-in-the-Fields, Chamber Orchestra of Europe and has been fortunate to work with conductors such as Haitink, Gergiev, Rattle, Solti, Harnoncourt, Muti and Honeck.